(written 30.may 2020)
First of all the sad news:
We have decided with a heavy heart to only restart our concert activities in the mid 2021.
It is a tough decision, because we live from our music and are now facing personal / financial loss, but the decisions regarding the official "easing" are not coherent for us as a band.
We will not let the time pass unused and will try to develop new things besides survival, new music, projects, new recordings …
As always, you can support us via the paypal link: https://www.paypal.me/gutspie or simply order DVD's, CD's, T-shirts from us … and any idea about funding etc is welcome!
Just a side note: a post on the so-called "Help for Solo Self-Employed" will follow, because that is a separate topic … just so much: it is NOT a support for artists, it may be a help for the landlords of rehearsal rooms, for the insurance companies, etc.… The ongoing "operating costs" may be paid for, nothing more. The money doesn't go to the artists and their survival. And those who "misuse" the money out of necessity for food, rent and personal survival in order to compensate for the de facto loss of livelihood from precarious 100% to 0%, are currently facing up to 5 years of imprisonment or other massive punishments, according to the official information .
The decision not to play concerts even if they could be possible under certain conditions is also a political decision for us. Because, in reality, the so-called "easing" in our opinion favors desolidation – between spaces, bands and the entire music scene.
Before all clubs were in same situation, now starts the individual struggle for survival and some are more same than others or get involved in risky situations because they fight for their survival.
The spaces and clubs that have proper conditions (such as space outside, lots of space, etc. … and / or have enough financial reserves in the background) will survive. The small, dark basement club just won't.
And that sucks.
We have great respect for clubs such as the Sonic Ballroom, which, despite their fear of existence, said clearly that the concept of easing is not applicable to them. Respect also for the festivals that canceled themselves very early. But we can also understand the plight of those who want to wait and still hope that something will still be possible after all …
In addition to the aspect of belonging to the potential risk group ourselves, we have no desire to participate in the booking game "which band can get into the least safety conditions" – that starts with inquiries, and maybe it is from the point of view some organizers understandable to ask, but it still feels shit when you have the impression that the band is too "sensible" and is not cool enough not to take part in the "whole Corona nonsense" …
We had canceled concerts before there was an official decision to do so, because we think it is right and important to stop the spread of the virus and not to rely on "herd immunity" that accepts the danger to hundreds of thousands – and above all the danger of tens of mutations in the virus.
The head-shaking reaction of some was like a harbinger of the "conspiracy third position" that was already suspected at the time.
We recently made a very nice stream concert (https://youtu.be/WBHOPXygDpg) for May 8th, where the organizers were super cool with all the arrangements. And it was nice for us to play again with loud sound and light … But the concert was as we expected and feared not so resonant: the music and atmosphere that we make is not transmited through video. It's nice to look at, but … it is not what we want to achieve with our music.
Streaming works when artist can create an athmosphere of personal involvement or when music can be played nicely in the background. Through my (Jean) experience with UNICORN PARTISANS (https://youtu.be/f0AQT6WfOK0) I can confirm that this can work well for some projects, in our opinion and experience it is unsuitable for GUTS PIE EARSHOT, that is probably due to the nature of the way we make music.
To imagine ourselves in such conditions, to play in spaces with the (absolutely reasonable!!) restrictions… Distance, control, light on – makes no sense to us, we make music that is living from moving together, dancing, sweating, releasing, reaching euphoria … It is impossible in such circumstances.
And so we want to look forward to a "time after", in which we will all need a lot of strength for the consequences of the current situation, because it is clear to us that the consequences will be borne financially and politically as always by the already disadvantaged…
We will have a big need for sound, volume, partying, hugging, sweating …Of course, you will hear more from us here …
Stay healthy and show solidarity!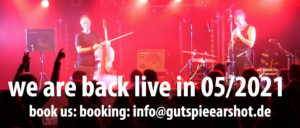 if you want to support us, our music, our work, our life … or what ever…